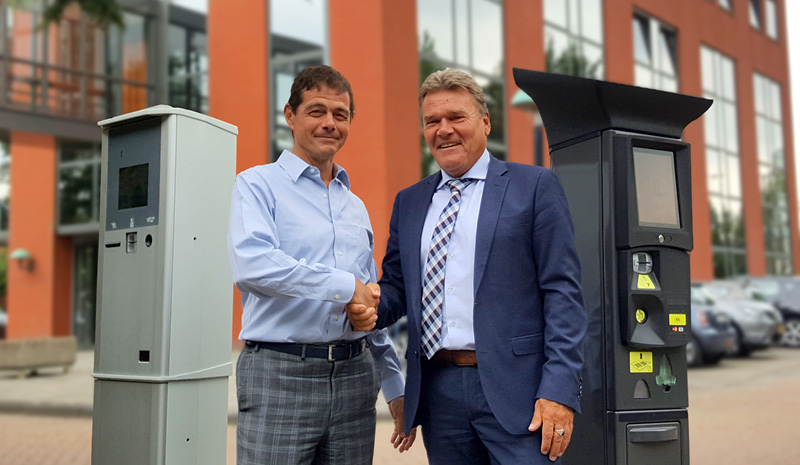 In 2018 Parkeon and Cale, the two world market leaders in the field of parking and public transport ticketing solutions, merged to become Flowbird. To strengthen the competitive position in the Netherlands and to increase market share, Flowbird has decided to accommodate the sales of both product lines at one distributor. That is why from September 19th 2019 TMC is the exclusive distributor for both Parkeon and Cale parking machines and parts.
From September 19th 2019, Taxameter Centrale (TMC) will take over the distribution of Cale parking machines. TMC has been the exclusive distributor of Parkeon parking machines in the Netherlands for many years. Parkeon and Cale merged to Flowbird in 2018, as a result, Flowbird has now decided to grant TMC the exclusive distributorship in the Netherlands for Cale parking machines including parts, hosting and management.
TMC and Parkeon have been loyal partners for 40 years, so assigning the Cale distributorship to TMC is a valuable recognition of these years of collaboration. "We are delighted with the assignment of this distributorship, it greatly expands our product portfolio and strengthens our position in the Dutch parking market. It also offers the possibility to introduce TMC and our expertise in the field of hardware, software, and complete maintenance and management to municipalities with Cale parking machines", says Rinus Bruinsma, commercial director of TMC.
Bertrand Barthelemy, CEO of the Flowbird Group: "TMC is a reliable, professional partner with a clear focus on on-street parking. With over 90 years of experience in the mobility sector, they have built up a proven track record. We are therefore very pleased with this development and look forward to the expansion of our collaboration."
About Taxameter Centrale B.V.
Taxameter Centrale B.V. (TMC) is market leader in the Netherlands in the field of on-street parking. The family business has been active in the mobility sector since it was founded in 1927. TMC offers parking machines and all related services such as complete maintenance and management, financial processing of electronic payments and reports. With over 60 employees in the Amsterdam office and spread throughout the country, TMC serves more than 100 municipalities.
About Flowbird
Flowbird is the world market leader in the field of urban mobility and smart city solutions. By offering a unique, all-encompassing range of parking management and public transport ticketing solutions, Flowbird has a presence in close to 80 countries and is successfully accelerating its growth in emerging markets such as Eastern Europe, Russia, Asia, Latin America and Africa. Flowbird's  equipment and services are facilitating urban mobility in over 5,000 cities. Flowbird employs a workforce of c.1,300 people worldwide and achieved a turnover of 340 million euros in 2018.

For more information, please visit www.flowbird.group
Back to overview

...